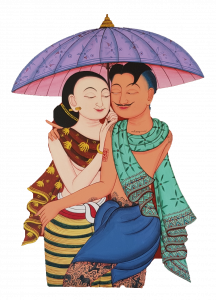 Our pick of some of the top 6 attractions to visit 
When crossing the bridge over to the Chapel
The bridge of "the cycle of rebirth" the main building at the white temple; the ubosot, is reached by crossing a bridge over a small lake. In front of the bridge are hundreds of outreaching hands that symbolize unrestrained desire. The bridge proclaims that the way to happiness is by foregoing temptation, greed, and desire. Next to the lake stands two very elegant Kinnaree, half-human, half-bird creatures from Buddhist mythology.
Gate of Heaven: After crossing the bridge, the visitor arrives at the "gate of heaven", guarded by two creatures representing Death and Rahu, who decides the fate of the dead. In front of the ubosot are several meditative Buddha images.
Landmark Chiang Rai
Singha Park
an ecotourism destination that creates happiness for the community and visitors.
Tea plantations, flower fields, outdoor activities, balloon festivals and Farm Festival on The Hill. 
Farm Festival on The Hill
Singha Park Chiang Rai's annual winter reception

Wat Huay Pla Kung (Big Buddha)
Huay Pla Kang Temple Located in Rim Kok Subdistrict, Mueang District, Chiang Rai Province is another beautiful temple, located on a hill with beautiful views. The outstanding feature of this temple is "Chokcham Tham Chedi", with it's 9-storey pagoda, lanna mixed Chinese art and the red roof with a dragon statue.
Pictures by Huay Pla Kang Temple
Wat Rong Seur Ten (Blue Temple)
Wat Rong Suea Ten Located at Rong Suea Ten Village, Rimkok Sub-district, Mueang District, Chiang Rai Province.
Located on the Kok River not far from Chiang Rai.
About 80 -100 yars ago this had been an abandoned temple site in a remote setting where many wild animals and especially tigers freely roamed along the river.
The temple was created by local artist Phuttha Kapkaew who had studied under Chamlermchai Kositpipat the designer of the White Temple.
Wat Rong Suea Ten (Suea means Tiger), started construction on October 27, 2005, with a width of 13 meters and a length of 48 meters. 
Completed on 22 January 2016. It took 11 years to build. 
Ask us for details 093 259 8493 or

mai@baansakuna.com
Origin of the Doi Tung Development Project (DTDP)
In 1986, the head of the 31st Watershed Conservation Unit of the Royal Forest Department requested the Foundation to help solve the problems of deforestation and prevent the local people, who were struggling for survival, from encroaching the remaining watershed forests of Doi Tung. .
Mom Rajawongse Disnadda Diskul, then Principle Private Secretary to the Princess Mother, was also searching for a location for HRH to reside in Thailand rather than having to travel to Switzerland when she was approaching ninety years old. He found that the climate in Doi Tung was suitable for her health. Upon hearing this report, the Princess Mother and Her Royal Highness Princess Galyani Vadhana paid a visit to Doi Tung and decided to build a home there so that she can devote her time to reforestation and development projects in Doi Tung. During that first visit, the Princess Mother stated that "I will reforest Doi Tung".
The Doi Tung Development Project is a holistic and integrated sustainable alternative livelihood development initiative. It is the culmination of the Princess Mother's lifelong dedication to development work.
Origin of the Mae Fah Luang Foundation  www.doitung.org  
Picture by doitung